Since we are staying in the region were 100 years ago soldiers of countries from all over the world were meeting each other in a very hard and long war, we chose for the theme of peace, forgiveness an reconciliation.
Pieces of peace is what we are looking for and what we are able to bring to the places and people we meet. We wish each other peace in our communities when we meet for prayer. And some people just greet each other by wishing them peace… Sjalom, salaam…
But also the opposite is part of life. Big and small conflicts divide people and neighborhoods. Differences make it difficult to live together. People hurt and damage each other and hatred can become a powerful fire that can burn everything…
Let's look for our own pieces of piece and work with them, share them and multiply them…
The book of Jonah is our guide….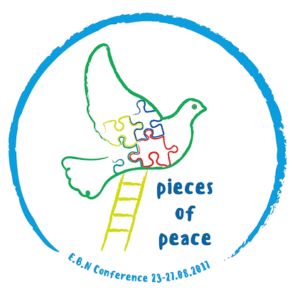 About the Conference
Language: the conference language will be English. But in each workshop there will be leaders understanding and speaking in German and Dutch.
From Wednesday supper until Sunday after diner .
Costs: for this moment we estimate the price at €395. It can change depending on extra costs and sponsors. Please don't let the cost stop you. If you really want to participate but you have a low budget, please contact us.
And the workshopleaders are….
Team 1:
Jean Agten, ( Belgium)
Tineke Boekenstijn-Dronkert ( Holland)
Team 2:
Ditty Dokter ( UK / Holland)
Helene Isborn ( Sweden)
Team 3:
Anja Steighorst ( Germany)
Cocky Fortuyn-van der Spek ( Holland)
Team 4:
Bas Van den Berg ( Holland)
David Tatem ( UK)
More information about them and their workshops later. ​Follow the news.
Program
Wednesday: Arrival, dinner, welcome evening
Thursday: Workshop 1 and 2, exchange moment and Belgian Beer Tasting
Friday: Workshop 3 and visit to Flanders Fields ​with different activities
Saturday: Workshop 4 and happening outdoors about forgiveness, reconciliation and peace, evening with festivities
Sunday: EBN Meeting and closing service.
Place to be: where will we stay?
Diocesaan centrum Groenhove in Torhout.
Some pictures.​
Travel information. You can reach Torhout by train from Brugge.
The nearest airports are Lille ( France) and Brussels.
More Information
http://www.hetleerke.com/bibliodrama-conference.html